And why there will soon be two separate Pleiades dress patterns instead of one: Pleiades 1 and Pleiades 2.
The beginning: a personal journey to conceive my ideal dress
Can you tell? The Pleiades dress is the result of months of research and prototyping to conceive my own ideal dress. A dress I could wear in Winter with tights and in Summer with bare legs, a dress that would take me from one season to another with different sleeves and necklines. A dress I could make in all of my favorite fabrics.
After some thinking I wrote down several criteria for this 'ideal dress':
My weight changes every month according to my period cycle. Until recently I was left with very little options in my closet for these days when I was bigger, because I chose all of my clothing according to my 'ideal shape'. So I thought after several years of this I finally knew my body and should accept its constant changes (entering your 30s makes most people wiser in this regard). This is why I wanted a dress loose enough in the lower part to accomodate these weight changes, or simply to throw out for a good dinner without worrying about how many courses I could have. The best items of clothing are the ones you can wear without thinking twice, knowing you will always look good in them.

But I don't like completely loose dresses. This is just not flattering. I don't want to feel like I am wearing a tent or hiding under yards of fabric. So I decided to showcase some major yet not too obvious parts of the feminine body:

Legs, with a short but not too short length.

Upper torso, with a close cut still allowing some room at the waist. The inverted V cut in the front allows just that.

Neckline, without showing too much: sometimes a simple slit is enough to soften an otherwise too serious-looking crew neck.

Forearms. But I didn't want 3/4 sleeves, because you need to be able to push them down when the winter gets cold. So I came up with these long sleeves that are cut close enough to the arm that you can push them up easily (and it doesn't slide down).
I loved the result, and so did you!
After several prototypes I posted a first version of the Pleiades dress on Instagram,  in a rust-colored viscose. Then a second one in dark green double gauze. I loved this pattern: I wanted to make it in every fabric, in every color. And then came the likes. I was surprised and pleased! I didn't understand why this dress was more liked than my other makes. The shape was fairly simple. Did all the work I put in it show?
Then I made a third one in a mustard yellow double gauze with golden dots. And the Instagram went crazy. I was humbled and couldn't believe my eyes: I had never imagined this little account would get me hundreds of likes on just one picture. Then I started receiving messages asking me where the pattern could be bought. I already told you
that story
. This project came out of nowhere, but I decided to give it a try. So I got an accelerated teaching in pattern grading and started the French Poetry adventure.
Voir cette publication sur Instagram
Voir cette publication sur Instagram
… that led to several problems
This mix of two patterns led me to many problems for the French version of the Pleiades dress pattern because it was originally a printed pattern. To make it short, let's say having so many pattern pieces (two bodices, two pairs of sleeves, because it is really two patterns in one…) made the pattern too expensive to print, too expensive to ship as it was heavier, and too thick to be inserted in the envelopes I had ordered.
As for the PDF version, I had several complaints that there were too many pages to print. Yes of course, these are two patterns in one.
Voir cette publication sur Instagram
Voir cette publication sur Instagram
And I like my designs to evolve over time
As mentioned above, I love to make my designs evolve. Once a pattern is made, I don't set it aside to focus on things entirely new. So I would like to release new versions of them sometimes. Recently I had new ideas for the Pleiades dress version 1: I drafted two new sleeve styles. But they won't be compatible with Pleiades 2 as the armholes are different. In parallel, I was thinking of turning Pleiades 2 into a button down style, complete with sleeve cuffs and shirt collar.
Coming back to the most logical option: two Pleiades patterns!
These are the reasons why I'm splitting this pattern into Pleiades 1 and Pleiades 2, that will come each with its new options, on top of a new, revised fit. They will be live very soon and will replace the old one: you have a few more days to buy it if you prefer this version!
I hope you will like the new ones as much as I do.
But I mostly design for myself, according to what I want to add to my own wardrobe. Maybe this is the secret I temporarily forgot: to follow your own instincts ?
Pleiades 1
This new version will include 4 different sleeves:
long sleeve (existing in previous version)
short sleeve (existing in previous version)
tied sleeve
'lantern' sleeve
And two skirt options, simple or with a frill.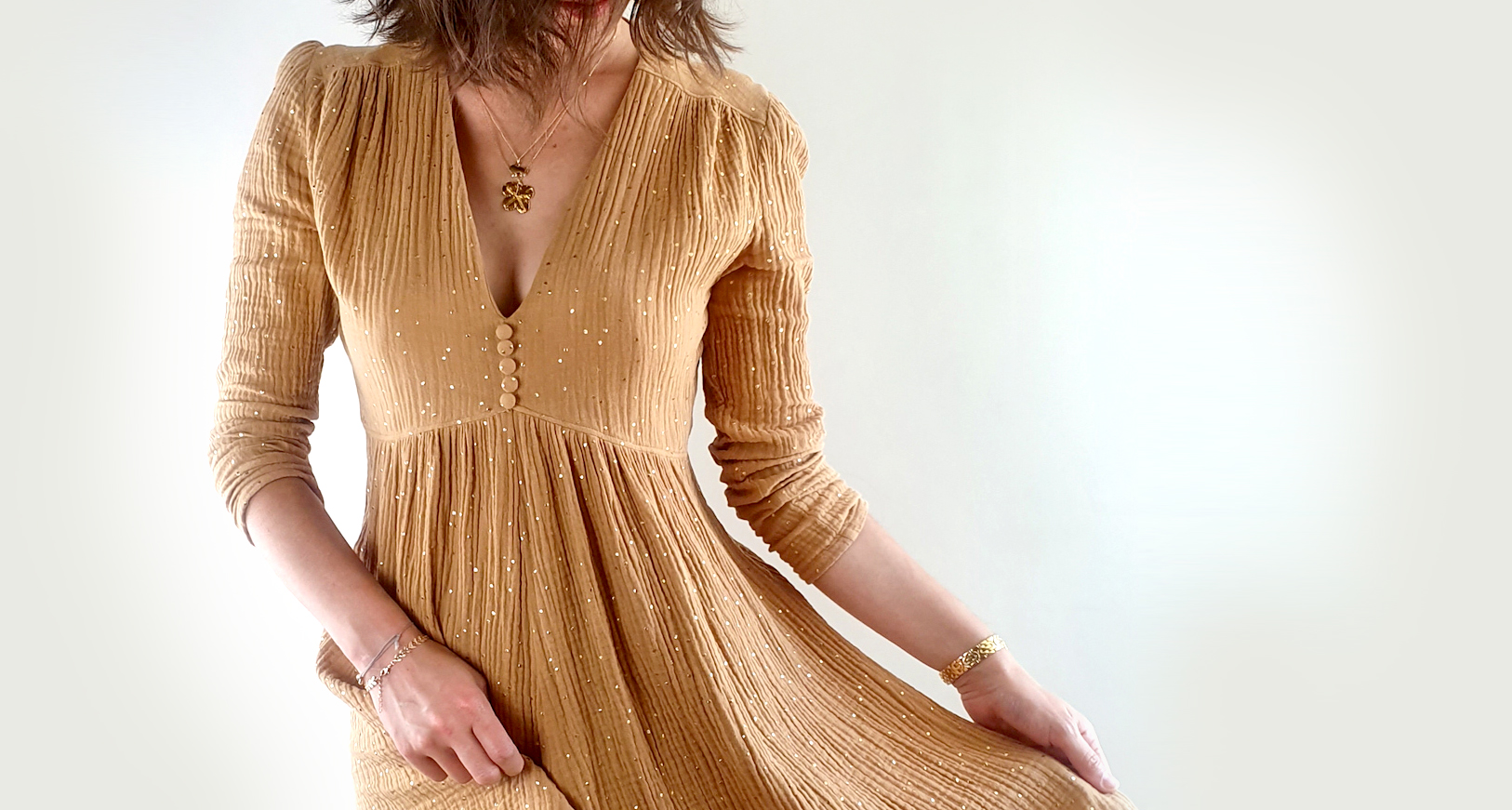 Pleiades 2
This new version will include 3 different sleeves:
long sleeve (existing in previous version)
short sleeve (existing in previous version)
gathered sleeve
And a shirt dress option, with button-down front and shirt collar, as an alternative to the slit neckline option that already existed in the previous version (and still exists in this one).